Bangkok zieht seit ewigen Zeiten Glückssucher aus der ganzen Welt an, was wiederum ein Grund für ihre faszinierende Anziehungskraft ist. Die Stadt ist modern und traditionell, unfassbar laut und erstaunlich leise, kreischend bunt und duster zugleich, jede Nationalität bringt ihre eigenen Sitten und Gebräuche mit..... soweit die gängigen Urteile, aber was konkret macht die Faszination aus? Und was mögen ihre Bewohner garnicht? Diese Fragen habe ich 6 Freunden gestellt, Thais und Expats, sechs ganz unterschiedliche Menschen die mir in den letzten Jahren ans Herz gewachsen sind. Und hier sind ihre Antworten: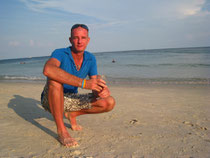 I am an Australian who moved to Bangkok in 2005 after owning a restaurant in Australia for 13 years. My passions are travel and food which is what I get to do in Bangkok and around Asia in my free time. I have no intentions to move back to Australia as I enjoy immensely my lifestyle and friends here.
Why did you choose bangkok to live?
chose Bangkok because I wanted a place where I could enjoy a lifestyle without being a slave to capitalism. Bangkok is an affordable and modern city with friendly people and easy access to the countries and cultures I am interested in.  
What do love in bangkok?
Having been in the restaurant business I consider myself a foodie and what I love about Bangkok the most is the endless food places to discover, WEITERLESEN...